Voice of Youth is heard throughout the Diocese
15 Oct 2015
Voice of Youth Winners Brendan Godwin, Eva Derbas and Christine Muscat with Principal Attila Lendvai.

On Monday 14 September 2015, six Year 6 students representing Catholic schools across the Diocese of Parramatta competed in the 29th Voice of Youth grand final at St Pauls Catholic College, Greystanes.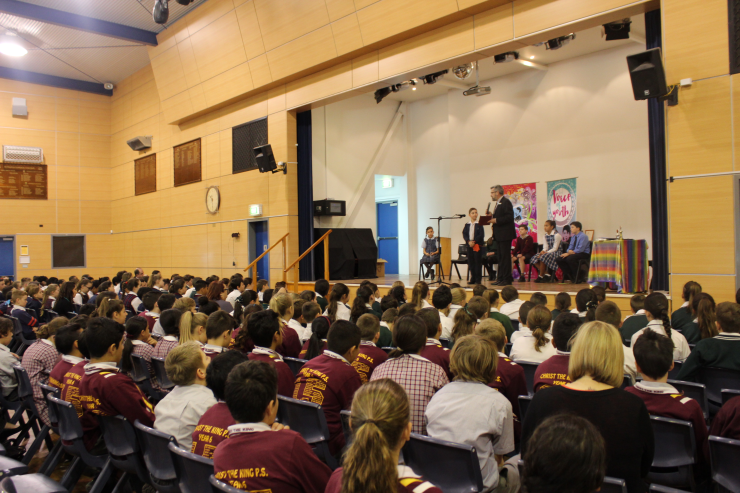 Grand finalist Brendan Godwin answering post speech questions.
The finalists spoke on various topics including refugees; gender discrimination and stereotypes; career ambitions; animal rights; the profession of acting; and daring to be different. Students were judged on their thesis statement, language, gesture, tone, pitch and overall effect.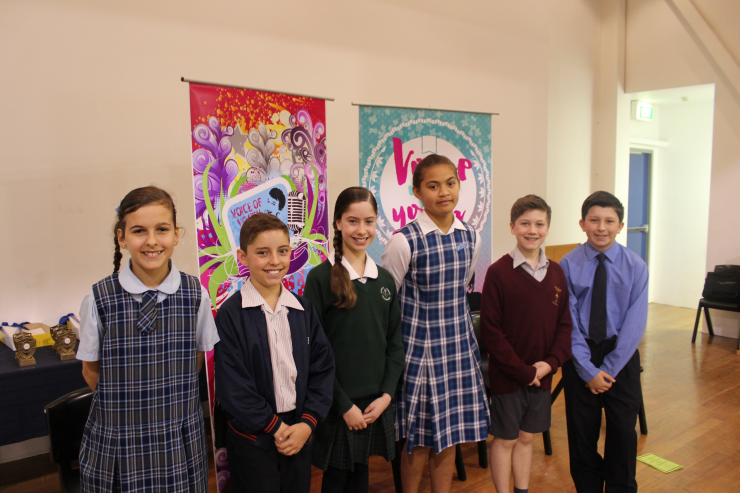 Finalists Eva Derbas, Brendan Godwin, Christine Muscat, Helen Tuimavave, Alexander Bozanic and Marcus Cooper.
Voice of Youth host and Principal of St Anthony's Primary School, Girraween Attila Lendvai said the contest enables students to learn much more as part of their learning.
'The important thing about this contest is that it is firmly embedded into the syllabus and in the curriculum of what we actually do in Year 6 or Stage 3,' Anthony said. 'It's a normal part of their English work.'
'Every year students know that when they get to Term 3 that they should start preparing Voice of Youth speeches,' he said. 'It's been a great task that has been embedded now in everything we do across this diocese.'
Grand final winner Christine Muscat giving her speech "Dare to be different".
Grand final winner Christine Muscat from Corpus Christi Primary, Cranebrook said her speech 'Dare to be different' was inspired by her hope that all students find their sense of individuality.
'I really hope other students will dare to be different and always be themselves,' Christine said. 'I would love to be a journalist when I grow up, as long as I get to help people.'
Grand finalist Helen Tuimavave giving her speech "My dream ....".
Social Justice prize winner Eva Derbas from Holy Trinity Primary, Granville said her speech 'Refugees' was inspired by her belief that every child deserves a fair chance in this life.
'My teachers helped me a lot with the research I did to write my speech, they directed me to places I should contact and books I should read,' Eva said. 'I would love to be a teacher when I grow up.'
Runner up Brendan Godwin from Blessed John XXIII Catholic Primary, Stanhope Gardens said his speech 'Gender Discrimination / Stereotypes' was inspired by his own experiences growing up.
'When I was younger I was bullied a lot for doing dancing and wanting to be an actor,' Brendan said.'I hope my speech will help to change this.'
'My mum helped me a lot when writing my speech,' he said.
Voice of Youth is a public speaking competition for school aged students which is run across Australia.
Grand final winner Christine Muscat.